Nordic Affect


Icelandic ensemble Nordic Affect has been hailed as 'multi-disciplinary force of nature' (A Closer Listen), as gem in Iceland's music life (Fréttablaðið) and for 'ineffable synergy between the performers' (San Francisco Classical Voice). In 2013 the ensemble was nominated for the Nordic Council Music Prize and was named Performer of the Year at the Iceland Music Awards in 2014.
Founded in 2005, Nordic was formed by a group of period instrument musicians who were united in their passion for viewing familiar musical forms from a different perspective and for daring to venture into new musical terrain. Its members have individually performed and recorded with artists and groups such as Concerto Copenhagen, The Six Tones, Anima Eterna Brugge and Björk.
Believing that music knows no boundaries, Nordic Affect has brought its music-making to contemporary and rock audiences alike and performed to critical acclaim at festivals such as TRANSIT Festival (BE), Dark Music Days (IS), November Music (NL), Skaņu Mežs (LV), Iceland Airwaves (IS), Ensems Festival (SP), North Atlantic Flux (UK) and Estonian Music Days (EE). In the U.S., Nordic Affect was featured in 2017 at Los Angeles Philharmonic's Reykjavik Festival, and has also performed at National Sawdust in New York, Constellation in Chicago, and at the UC Berkeley Art Museum.
The commissioning and performance of new works is integral to Nordic Affect's mission as it has, from the group's inception, combined new compositions with the music of the 17th and 18th centuries. Believing that exciting things happen 'in the connection', Nordic Affect has through the years established exciting collaborative relationships with composers, visual artists and producers.
In addition, the group's concert series in Reykjavík has been a platform for educational programming and presented many first performances in the country, be it of music by Telemann or 21st century composers. Their mission to spotlight women's role in music history has led to projects such as HÚN/SHE which was broadcast by the European Broadcasting Service and the albums Clockworking and He(a)r.
Starting with its debut album in 2007, Nordic Affect's recording projects have spanned newly discovered early music to first releases of music written for the ensemble. Nordic Affect's performances can be found on the Deutsche Grammophon, Bad Taste Records, Musmap, Brilliant Classics and Sono Luminus labels. In 2015, Nordic Affect's album Clockworking was released by Sono Luminus. Clockworking received various accolades and was featured as Album of the Week on Q2 Music and Second Inversion. The title track was chosen for NPR's Songs We Love series and featured in various best-of-the-year lists, including Night After Night, The Chicago Reader, and The New Yorker. In spring 2017, Nordic Affect released Raindamage, an album resulting from a collaboration between the group and producer Valgeir Sigurðsson. The album was nominated for the Iceland Music Award and Kraumur Prize and was featured in various best-of-the-year-lists, The Chicago Reader, 5:4 and AnEarful. In October 2018 Nordic Affect released the album He(a)r on the Sono Luminus label with works by Icelandic and Estonian composers. The album was nominated for the Iceland Music Award and Kraumur Prize and made various best-of-the-year-lists, including the Boston Globe, I Care if You Listen, Yahoo Entertainment and Second Inversion.
Events
September 23
21:00
Mengi
Reykjavík, Iceland
Ástin, naglalakk og spilaborgir Ástinni, naglalakki, leikskólum og spilaborgum bregður fyrir í lagsmíðum Steinunnar Arnbjargar Stefánsdóttur sem verða í fókus á tónleikum Nordic Affect. Hópurinn hefur áður flutt verk Steinunnar sem er tónskáld, ljóðskáld og sellóleikari en að þessu sinni verða frumflutt tvö ný verk ásamt eldra efni. Sérstakur gestur er söngvarinn og langspilsleikarinn Eyjólfur Eyjólfsson. Verkum Steinunnar verður fléttað saman við tónsmíðar frá barokktímanum eftir m.a. Matteis, Fontana, Philips og íslenska(n) óþekkta(n). Nánari upplýsingar má finna
hér.
February 8
Spectrum
New York, USA
Nordic Affect at Spectrum Nordic Affect makes an appearance at Spectrum. Join them for a strange turn, roller-coaster for atheists, grandma in the skies, a mystical landscape transformed into music and more as they perform works by Bergrún Snæbjörnsdóttir, Maja Ratkje, Veronique Vaka, Lilja María Ásmundsdóttir and Bára Gísladóttir. For more info click
here.
February 6
22:00
UAlbany Performing Arts Center
Albany, USA
Nordic Affect at UAlbany Nordic Affect makes an appearance at UAlbany, as part of Mid Atlantic Arts tours. The concert features visual elements, works by women composers and music that incorporates the ensemble's love of ecology. Works on the roaster are by Veronique Vaka, Jobina Tinnemans, Bergrún Snæbjörnsdóttir, Anna Thorvaldsdóttir, Maja Ratkje and Úlfur Hansson. For more info click
here.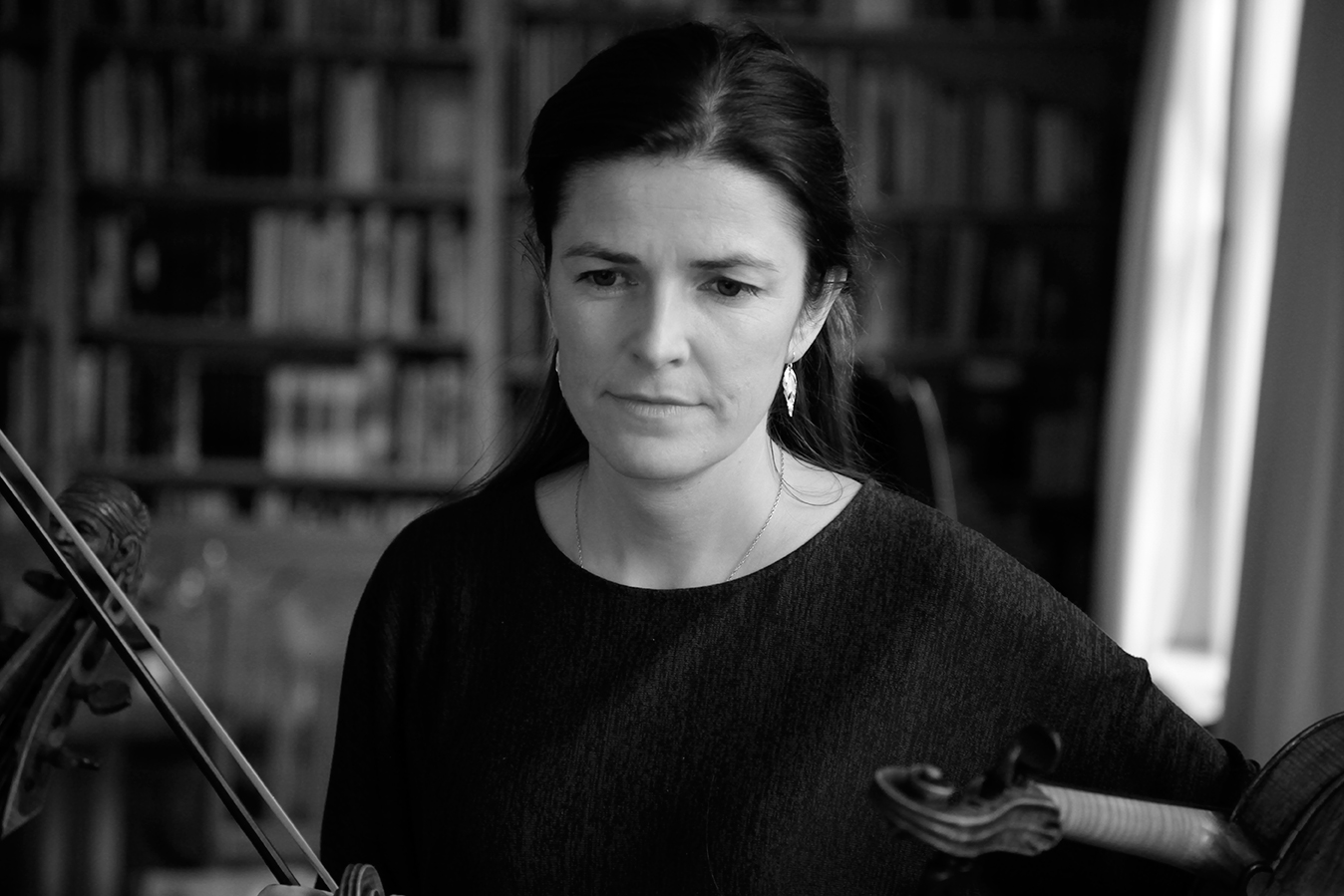 Halla Steinunn Stefánsdóttir
Violin
Marie Stockmarr Becker
Viola
Hanna Loftsdóttir
Cello and Gamba
Guðrún Óskarsdóttir
Harpsichord